Vintage 24 Inch Stanley Folding Ruler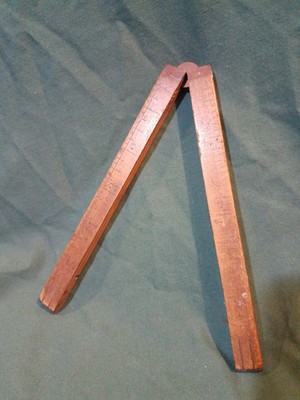 | | |
| --- | --- |
| Title: | Vintage 24 Inch Stanley Folding Ruler |
| Location: | Palmer,MA,USA |
| Payments available: | PayPal |
| Seller: | noahcota |
| Comments: | 43 (100.0% Positive) |
| Price: | $3.99 |
It's a vintage 24 Inch Stanley folding ruler. I believe it's referred to as a carpenter's pocket ruler. Can make out "Stanley" "Made in USA", and "Warranted Boxwood" but not model number... I think it's "No. 61" but very faded. This ruler has seen it's share of work. Outer markings worn off on one section (see pictures) other sections faded. Inner sections in better shape, can read full line of numbers. Overall ruler in fairly decent shape for it's age, just about what you'd expect. Please examine pictures closely and email me any questions. Thanks for looking!.
Jowat GluesAdvertising Tape MeasureWood Case 72 inchesMeasures Metric and inches Wooden Holder2 inches x 2 inches.
Vintage Zippo manufacturing Company measuring tape Davis Canning Company. This item shows signs of wear. The tape itself is tarnished, most numbers are visable..
Others in category
East Sparta,OH,USA

$8.0

Saint Augustine,FL,USA

$7.99

Easton,CT,USA

$19.99

Epping,NH,USA

$8.54

Syosset,NY,USA

$7.95

Mountain View,HI,USA

$15.0

Colorado Springs,CO,USA

$12.99

Palm Harbor,FL,USA

$17.8

Evinston,FL,USA

$11.99

Dewitt,MI,USA

$4.8

Edmonds,WA,USA

$17.99

San Marcos,CA,USA

$5.95

Katy,TX,USA

$5.0

Clayton,NM,USA

$14.49

USA

$9.95

Clarksboro,NJ,USA

$10.0

Tucson,AZ,USA

$12.99

West Salem,OH,USA

$4.99

Little Falls,NY,USA

$39.95

Martin,OH,USA

$4.99

Wyoming,PA,USA

$49.99

Saunderstown,RI,USA

$29.5

Prospect Heights,IL,USA

$17.99

Coal Township,PA,USA

$18.0

USA

$150.0

Sylvan Beach,NY,USA

$5.0

Knoxville,TN,USA

$14.95

Charleston,WV,USA

$64.95

Ballston Spa,NY,USA

$10.99

Custer,MI,USA

$24.95