1958 Antique Vintage CNT'L Upright Brass Fire Sprinkler Head Central Auto SPKR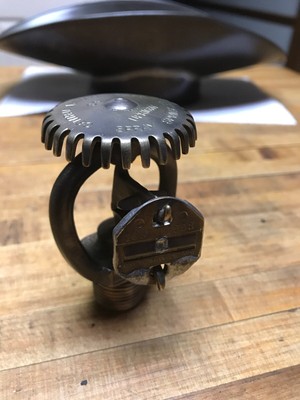 | | |
| --- | --- |
| Title: | 1958 Antique Vintage CNT'L Upright Brass Fire Sprinkler Head Central Auto SPKR |
| Location: | Hudson,OH,USA |
| Payments available: | PayPal |
| Seller: | thevintagelawnsale |
| Comments: | 1354 (99.7% Positive) |
| Price: | $12.95 |
1958 Antique Vintage CNT'L Upright Brass Fire Sprinkler Head Reads 165° 1958 patented May 24 1921 If you like this item, see hundreds more at our eBay store! Add us to your FAVORITES. We list new items daily: Visit My eBay Store: The Vintage Lawn Sale.
Vintage Industrial Gage Very nice condition, beveled glass gage has a brass or bronze rig Probably some sort of gas application. There is a logo on the clamp and a small button perhaps to bleed off pressure. The larger of the two screw bolts turns freely the smaller one will need to be lubricated and broken loose. Thanks for looking! I1912.
Vintage Genuine Stillson 18" pipe wrench C4. Good pre-owned working condition. Walworth MFG. Col, USA. Nice wrench. Thanks for looking. Normal 0 false false false EN-US JA X-NONE We research every item we post and try to be as accurate as possible in its description and condition. If you need additional information or have a question, please contact us. If you think there has been an error in our post, we would like to know. We value every customer and strive for 100% satisfaction. If you do purchase from us and there is a question or problem with the item, please communicate with us, before leaving feedback, so that we may resolve any issue. Thank you. Payments are accepted through PayPal only. Please pay within 2 days so that we may ship your purchase on a timely basis. We currently ship within the continental U.S. only. ***WE NORMALLY SHIP SAME OR NEXT DAY ON RECEIPT OF PAYMENT.*** 1017-A1.
Others in category
Houston,TX,USA

$20.0

Staten Island,NY,USA

$14.99

Indian Orchard,MA,USA

$14.99

Locust Grove,GA,USA

$18.95

USA

$6.0

Port Washington,NY,USA

$17.9

South Fulton,TN,USA

$9.99

Valley Springs,CA,USA

$4.75

Carthage,TN,USA

$29.0

Newark,NY,USA

$25.0

Yorba Linda,CA,USA

$70.0

Hibbing,MN,USA

$13.87

Middletown,NJ,USA

$35.0

Bedford,PA,USA

$7.99

Summersville,WV,USA

$10.0

Lake Montezuma,AZ,USA

$35.0

Black Canyon City,AZ,USA

$22.22

Stroudsburg,PA,USA

$24.95

Enumclaw,WA,USA

$20.0

Torrance,CA,USA

$9.95

Salem,IL,USA

$8.99

Sun City,CA,USA

$6.0

Placerville,CA,USA

$3.99

Troy,NY,USA

$2.99

Rockwood,MI,USA

$99.99

Webster,NY,USA

$14.99

Medford,MA,USA

$7.0

Paris,OH,USA

$30.0

Tinley Park,IL,USA

$45.0

Grafton,OH,USA

$19.99